Leadership the Hard Way offers a straight-from-the-gut perspective on leadership, as seen from the dynamic edge of the global economy. Author Dov Frohman, the founder of Intel's operations in Israel and a pioneer of Israeli high tech, argues that leadership cannot be taught but that it can be learned. And he describes how to become a self-taught leader in today's turbulent global economy. Part memoir, part manifesto, Frohman's book is an original — and refreshingly honest — take on the challenges of leadership in contemporary business.

Announcing . . .
Leadership the Hard Way . . . in Hebrew!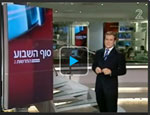 Dov Frohman profiled as "the prophet of Israeli high tech" on Israeli television's Channel 2 (in Hebrew).
Listen to a podcast interview of Dov Frohman from webcast radio program Fired Up! With Gordin Rudow: